During the next few weeks, I will be posting bits of information especially intended for the participants of the Jane Austen trip 'Love and Friendship' (well, Freindship actually: more about that later) that will take place between 21 and 26 July, and which I have been asked to accompany as a Jane Austen specialist. I'll be doing this mostly in Dutch – apologies for that to this blog's English speaking followers!
Laten we beginnen met het nieuwe biljet van tien pond, dat in 2017 is uitgegeven, de tweehonderdste sterfdag van Jane Austen.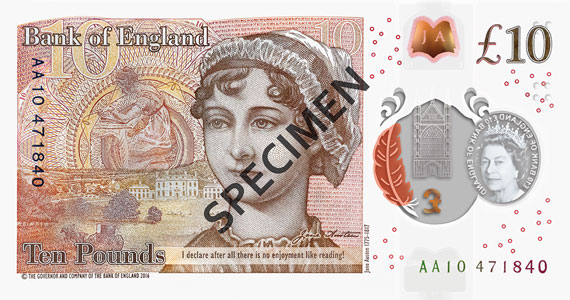 Het is echt prachtig, maar er is van alles mee mis: Jane Austen heeft er bijvoorbeeld nooit zo uitgezien. We hebben maar één echt portret van haar, geschilderd door haar zus Cassandra, en daarop ziet ze er tenminste niet uit als een tienjarig meisje:
En dan die tekst, I declare after all there is no enjoyment like reading.  Ook dit heeft tot veel commentaar geleid, zoals te lezen is in dit artikel uit de Guardian. En hier is de passage uit Pride and Prejudice waar het allemaal om gaat: Jane Austen echt op haar best!
Miss Bingley's attention was quite as much engaged in watching Mr.
Darcy's progress through _his_ book, as in reading her own; and she was
perpetually either making some inquiry, or looking at his page. She
could not win him, however, to any conversation; he merely answered her
question, and read on. At length, quite exhausted by the attempt to be
amused with her own book, which she had only chosen because it was the
second volume of his, she gave a great yawn and said, "How pleasant it
is to spend an evening in this way! I declare after all there is no
enjoyment like reading! How much sooner one tires of any thing than of a
book!--When I have a house of my own, I shall be miserable if I have not
an excellent library." (uit: Project Gutenberg)